Esta es nuestra segunda entrevista a una chica, en esta ocasión os dejamos a Conny Bleicher, alemana que vive en Austria y nos deja este buen edit.
English version at the bottom of the page.
Conny Bleicher
– Apodo/ A.K.A?
Big Mama, Conny Conejito hahahaha
– Edad?
La edad necesaria para ser una BIg Mama, 33.
– De donde eres?
Soy de Munich, Alemania, pero hace 8 años me vine a vivir a Innsbruck, Austria. Austria tiene mejores montañas.
– Sponsors?
686, Elan Snowboards, Drake, Northwave, Smith
– Cuantos años llevas haciendo snowboard?
Comencé con 15 años, asi que 18 años.. wooow! Eso es mucho tiempo 😉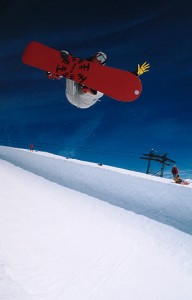 – Cual es la razón por la que has seguido haciendo snowboard?
Ahora mismo eso es lo que ha pasado y no puedo imaginarme sin snowboard, me encanta.
– Donde sueles hacer snowboard?
Me encanta ir a las montañas de donde vivo, Seegrube y Seefeld, a veces vamos a Alberg a filmar, un lugar maágico.
– Que odias mas los que están todo el día molestando en las recepciones de los parques o a los posers?
Jaja, normalmente no odio a nadie, pero en este caso a los que no se enteran y están parados en las recepciones, los posers son pobre gente.
– Que música escuchas ademas de David Bisbal?
Nosotros hicimos esta pregunta pensando en que no le gustaría pero….. su respuesta fue….
Me encanta David Bisbal, jajaja me hace bailar.
– Cual es la chica que mas te ha impresionado ver haciendo snowboard?
Si volvemos hacía atrás, Barret Christy, Nicola Thost, Natasha Zurek son algunas que diría, ahora mismo me encanta ver a Urska Pribosic, Sarka Panchochova.
– Como esta el snowboard femenino en tu país?
Es una pregunta difícil, en Austria hay muchas chicas haciendo snowboard, el nivel cada vez esta mas alto comparado con años atrás.Vamos chicas!!!!
– Has hecho snowboard en un montón de lugares, ¿ Cuales han sido tus favoritos? ¿ Parque y Powder?.
Me encanta hacer snowboard en powder. La mejor región para esto es Alberg, tiene mucha mas nieve que ninguna otra. Para parque creo que la mejor zona es Zillertal, Kaltenbach y Mayrhofen, en primavera me gusta ir al parque de Dachstein, siempre hay buen ambiete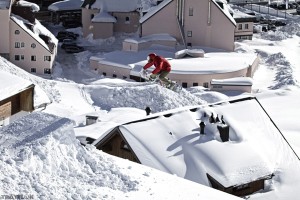 Foto – Flo Trattner
– Cual es tu rider favorito de todos los tiempos?
Brian Iguchi o Terje Haakonsen
– Jumps or Rails?
Mas los saltos!
– Powder o parque recién fresado?
POWDER!
– Que te llevarías a una isla desierta?
Tablas de surf y amigos
– Nuestra web se llama ilovemyboard, por los buenos momentos que pasamos sobre nuestras tablas, cual ha sido tu mejor momento sobre una?
Mi mejor momento, es cualquier momento sobre mi tabla con buenos amigos, buena nieve y amaneciendo, no hay nada mejor.
– Agradecimientos.
Gracias a todos mis sponsors por ayudarme todos estos años, a mi familia y amigos.
English version.
– Name
Conny Bleicher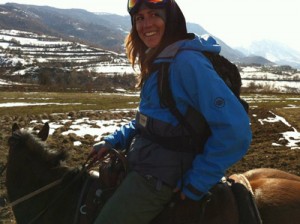 – Nickname?
Big Mama, Conny Conejito hahahaha
– Age?
old enough to be a big mama: 33
– Where are you from?
I´m from Munich/Germany, but since 8 years I live in Innsbruck/Austria. Austria got the better mountains! 🙂
– Sponsors?
686, Elan Snowboards, Drake, Northwave, Smith
– How long have you been snowboarding?
I started with the age of 15, so 18 years… wooow! that´s a while ago 🙂
– What was the reason that led you to go so far snowboarding?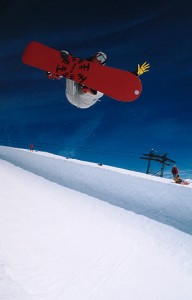 It actually just happened and I can´t imagine living without snowboarding now… I love it!
– Where do you usually shred?
I love to go to my home mountains Seegrube and Seefeld… and for shooting we most of the time go to Arlberg, this place is just magic!
– What do you hate most? landing disturbers or posers?
haha I generally don´t hate anybody, but in this case i hate landing disturbers. Posers are just poor people!
– What music do you listen to part of David Bisbal?
haha I love David Bisbal, I just listen to his music. that makes me dance!
– Who has been the girl most impressed you? Seeing her snowboarding?
Back in the days it was Barret Christy, Nicola Thost, Natasha Zurek… nowadays I love to watch Urska Pribosic, Sarka Panchochova,… just to name a few, there are a bunch of good female riders.
– How do you see the world of women's snowboard in your country?
that´s a hard question… but in Austria are a lot of girls riding and the level increased a lot the past years. Keep it up, girls!
– You've run endless places snowboarding, tell us which was your favorite? park and powder?.
I love to ride powder! The best place is definitely the Arlberg region. This place just gets so much more snow than any other. About the park the best place to go to is for sure Zillertal (Kaltenbach and Mayrhofen). In spring time I love the Dachstein glacier with its chilled atmosphere.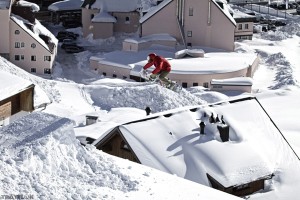 Foto – Flo Trattner
– who is your favorite rider of all time?
Brian Iguchi, Terje HaakonsEn
– Jumps or Rails?
most def jumps!
– Powder or park recently fallen freshly milled?
POWDER!
– What you take to a desert island?
surfboards & friends
– Our site is called ilovemyboard, for the good times your board gives you, tell us, what has been your best moment on a snowboard?
My best moment is any moment I´m out on my snowboard with good friends, good snow and sunshine! There´s nothing better!!!
-Thanks to all my sponsors who are supporting me since a really long time!! Thanks to my family & friends! love ya!